1.2 Drawing up a list of requirements
Definition: List of requirements (specifications)
Summary of the requirements on a product or part of a product (e. g. on a bonded joint and bonding process) that can be directly checked/tested.
Desired criteria can also be included.
Distinction between aspects which have to be fulfilled and those that can be fulfilled.
Each step in the planning and production p‌hases must proceed as per the specifications. The latter can be amended or expanded if necessary.
All information and all amendments to the specifications must be documented in writing.
Drawing up the list of requirements (specifications) in consultation with all involved parties: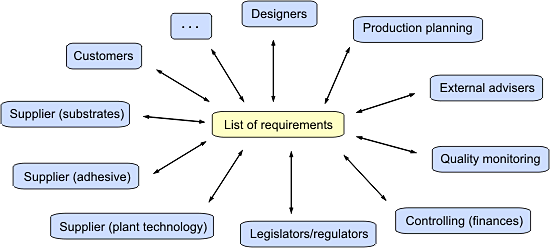 When drawing up a list of requirements, it is important to know the expected loads on the product or bonded joint as accurately as possible, in order to include these in the list of requirements.
These loads are not only those that occur during the usage p‌hase but also those that arise in subsequent processing steps.
L‌oads on the product which have to be considered may include:
In addition to the loads on the products / bonded joints, the following aspects must also be considered:
Workplace and environmental protection
Substrates
Adhesive
Long-term stability
Production
Quality assurance measures
Availability/costs
…
Substrates:
Material
Storage conditions
Suitability for the adhesive and surface treatment
Geometry/size of the bonding area
load limit of the substrates
Manufacturing conditions for the substrates, as far as these affect the bonding properties
…
Adhesive:
Storage conditions
Processing and hardening/curing conditions and times
1-C or 2-C processing
Adhesive film thickness and width, position of the adhesive bead
Adhesive viscosity (e. g. thin liquid or paste-like)
Suitability for the adhesive and surface treatment
Suitability for the expected loads; load limit of the adhesive
…
Production:
The "bonding" process requires cleanliness
Ambient conditions and curing/hardening conditions
Correct storage of the adhesive, substrates and all auxiliary materials
Cycle times
Method of application, i. e. manual or automated
Position of the adhesive on the substrate
Adhesive film thickness and width
Suitable application equipment
…
Workplace and environmental protection:
Adhesives, on account of their composition, may be classified as hazardous materials or dangerous goods and in that case suitable protective measures must be taken.
Statutory regulations must be observed, including those regarding:

workplace protection (e. g. the drawing up of work instructions with specification of protective equipment to be used and medical guidance for employees)
transport
storage
disposal
the duty to use the adhesive with the lowest hazard potential in situations where several adhesives are equally suitable

Information about the regulations on hazardous substances can be obtained from the safety data sheets that are made available by adhesive suppliers.
Long-term stability:
Definition of the planned product lifetime taking into account the nature and duration of the relevant loads
Specification and the carrying out of suitable ageing tests which optimally simulate real ageingprocesses
Quality assurance:
Specification of quality 

assurance

 measures for the individual process steps
Supra-process quality assurance measures:
Documentation of quality data and processes; possible classification of individual products
Inspection of tools and test equipment
Management of defective products
Communication
Setting of responsibilities
Work organisation
Traceability
Availability/costs:
Check and guarantee the availability of the adhesive.
Calculate material costs and if necessary compare costs with other joining methods. Unused residues in containers and any necessary rinsing processes and costs for materials such as solvents, primers, cleaning cloths, etc. must be taken into account here.
The container size must be appropriate for the amount of adhesive that is required.
Draw up a list of specifications   
Preselect the adhesive + surface treatment
Determine the load limit of the joint
Optimise the joint until:load x safety factor < load limit