4.2 Factors influencing adhesive selection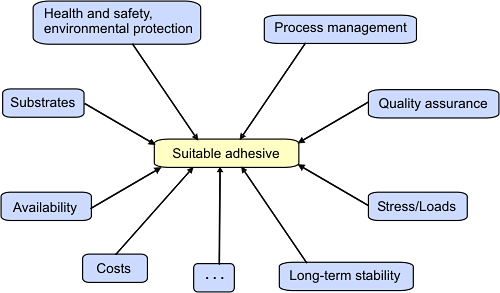 Substrates
Points to consider:
Substrate material
Mechanical properties such as strength, rigidity, etc.
Properties of the surface, e.g. contamination, surface tension
Surface treatment of the substrates
Thermal stability
Resistance to physical and chemical loads
Size and geometry of the bonding area
…
Health and safety at work and environmental protection
Points to consider:
Potential hazard represented by the adhesive and auxiliary materials
Possible alternative adhesives representing a lower hazard
Protective measures
Storage and transport
Minimisation of waste, waste disposal
Statutory regulations
…
Process management:
Points to consider:
Process integration, cycle time, number of pieces
Surface treatment
Required  viskosity and flow properties of the adhesive
Application method (bead, film, spots)
Process parameters: time, temperature, pressure, etc.
Sec‌uring/positioning, hyb‌rid  joining
Curing,  hand strength
Component tolerances (allowable margins)
…
Quality assurance:
Points to consider:
Monitoring of received goods
Storage conditions
In-line monitoring, test methods
QA measures for production steps
In-service monitoring
…
Stress/loads:
Mechanical loads (static: shear, peel, compressive and tensile loads; dynamic: vibrations and impact loads) during the production and during normal usage
Thermal loads (temperature, duration and rapid temperature changes)
Exposure to media such as cleaning agents, solvents and other chemicals (e.g. coolants)
Effect of moisture
Radiation (e.g. UV radiation)
Long-term stability:
Definition of the desired service life of the product
Specification and execution of suitable ageing tests which optimally simulate real ageing processes
The predetermined requirements of the adhesive, which can be vary varied, are then compared with the properties of different adhesives in order to get an optimum match.
The following pages outline the typical properties and processing characteristics of different adhesives. Special products cannot, however, be covered here. Relevant information can if needed be obtained from the manufacturers and independent advisers.
The following points hold for all adhesives:
The properties are product-specific. Acquire information from data sheets and/or contact the manufacturer.
Prior to processing an adhesive read the technical data sheet
Check the shelf-life
Ensure adhesives are stored correctly
Acclimatise adhesives, auxiliary materials and substrates
Heed the lower and upper temperature limits for processing the adhesive; In general, bonding is not possible below 5°C!
Adhesive bonding requires cleanliness
Only remove the positioning device after reaching hand strength